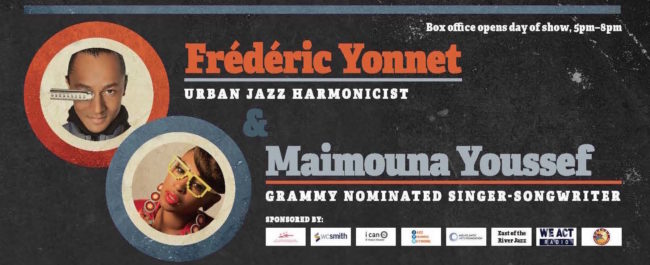 Yonnet/Youssef: DoubleTime
There's a lot going on in the D.C. area these last few days of April. From The Revolution concert on Thursday evening to DJ Spinna's Wonder-FULL party on Saturday night, DMV Bouncers have some great entertainment options to choose from this weekend. In case you're looking for something to do on Friday night after you put your 9-to-5 up on the shelf, may we suggest going to see Frédéric Yonnet and Maimouna Youssef live in concert.
The world-renown harmonicist and GRAMMY-nominated songstress are coming together at THEARC Theater in Washington, D.C. for the venue's first Double Time Jazz concert of the 2017 season. The show will definitely be a double feature with these two seasoned performers on one bill. Yonnet can frequently be seen on stages with Stevie Wonder and Dave Chappelle, while Youssef is a member of Common's band providing her honeyed vocals to his live performances. These two are among the cream of the musical crop in the DMV and are guaranteed to put on a great show. We understand that it is also Frédéric's birthday weekend, which means that he will be showing up and showing out as he celebrates with everyone in attendance.
Tickets to see Frédéric Yonnet and Maimouna Youssef at THEARC Theater on Friday, April 28th at 8 p.m. are on sale now online. To sweeten the deal and your night out, ticket holders will also get to enjoy a complimentary cocktail hour starting at 7 p.m.
Reprinted from SoulBounce.com