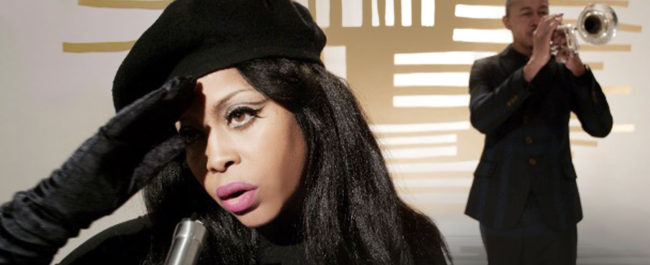 Yonnet Makes Video Debut in Erykah Badu's "Maiysha (So Long)"
Four-time GRAMMY Award-winning singer, songwriter and producer Erykah Badu releases the self-directed music video entitled, "So Long…That's What She Said" on Friday, June 24th. The music is a collaboration with GRAMMY Award-winning jazz pianist, producer and long-time friend Robert Glasper. The song, "Maiysha (So Long)" can be found on Glasper's  Miles Davis reimaging project Everything's Beautiful. The unique take on the classic Davis song features an electronic bossa nova with all-new, original lyrics by Badu herself.
The video features a cameo by acclaimed harmonicist Frederic Yonnet as the trumpet player performing Miles Davis' solo.  "My axe is the harmonica but Badu challenged me to channel my "inner Miles" for this one," said Yonnet. The video, which Badu describes as having the feel of a short film, was conceptualized, written and directed by Badu and it is everything one has come to expect from the auteur—poetic, tongue-in-cheek, imaginative and stylish. In keeping with the song's deceptively humorous lyrics, the short is a somewhat satirical wink at the musical guest performances from classic variety shows of the '50s and '60s. The video stars a neurotic, beatnik chanteuse named Sarah Bellam—one of Badu's many personas–with Glasper as her tormented keyboard player and lover. The supporting musicians include Rashad "Ringo" Smith, drums and Braylon Lacy, bass.
As the creative force and director behind each of her 12 music videos, including 2010's acclaimed and controversial "Window Seat" from New Amerykah Part Two: Return of the Ankh. The "short film" "So Long… That's What She Said" was co-produced by Badu's own Control Freaq Media and with long-time collaborators Coodie and Chike of Creative Control. Leading up to the video's premiere, Badu and Control Freaq Media have spearheaded a unique digital marketing campaign leading up to the release of the video. Team Badu has created a series of movie inspired posters, animated .gifs, and exclusive bonus content that will roll out across her social media platforms.