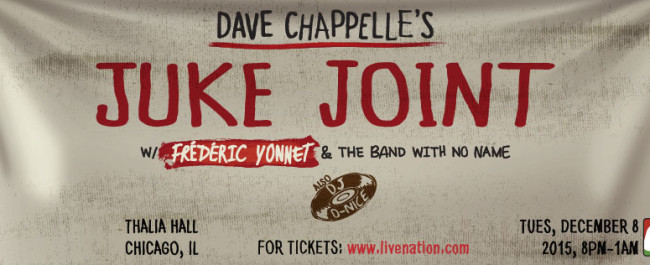 Chappelle and Yonnet gear up for a Chicago Juke Joint
Frederic Yonnet and the Band with No Name join comedian Dave Chappelle to bring his modern day "Juke Joint" to Chicago.  In celebration of Chappelle's twelve show, eight-night residency at Thalia Hall. Inspired by music born in the juke joints of America's Deep South, Chappelle takes you on a trip into his personal playlist ranging from Coltrane to Nirvana. This "real music revival" is part concert, part comedy, and all-out unpredictable. Past surprise guests have included Stevie Wonder, Ed Sheeran, Mos Def, De La Soul, Naomi Campbell and Venus Williams.
Chappelle is best known for his stand up act however his appreciation of good music is hardly a secret. Chappelle serves as instigator and ultimate hype-man as renowned harmonicist Frédéric Yonnet, backed by The Band with No Name, take on legendary hip-hop DJ D-Nice. It's a Band-vs-DJ sound clash that blurs all musical lines. "These virtuosos have toured with legends like Stevie Wonder and Prince," said Chappelle. "Their instrumental interpretations – a mix of jazz, rock, R&B, layered with hip-hop, is so electrifying, it like the capturing of lighting in a bottle."
After hosting the first Barnyard Juke Joint in his hometown of Yellow Springs, Ohio, Chappelle wanted to do it again and again. "We should take this show on the road," he said. Next stop… Chicago!
<iframe width="1280″ height="720″ src="https://www.youtube.com/embed/aHwPRh70WMc" frameborder="0″ allowfullscreen></iframe>