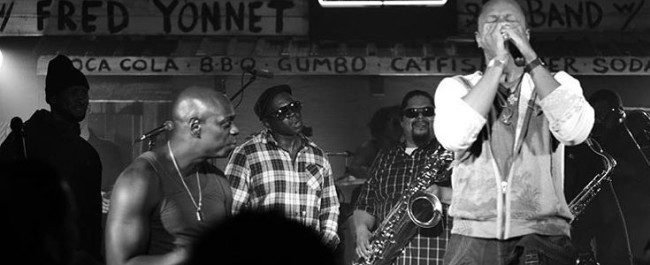 Inside Dave Chappelle's Juke Joint w/ Fred Yonnet
It's -25 with the wind chill in Toronto on the Thursday before NBA All-Star Weekend and a long line stretches down the block outside of 99 Sudbury, an event venue in the Liberty Village area of Toronto. Inside, security staff prepare to open the doors into a party unlike any other.
Dave Chappelle's 'Juke Joint' is a one-of-a-kind party that's part jam session/part club night/part comedy/part musical history lesson. The Toronto version of the event (the 4th in the series) was an impromptu addition to Chappelle's Toronto visit, which included a 9-show sold out stand at Toronto's Danforth Music Hall. The Toronto 'Juke Joint' wasn't even announced until the day before the event.
As I step inside the event venue (and as everyone surrenders their phones — more on that later), DJ D-Nice is spinning a set of modern day and old school Hip-Hop while on the other side of the room, there is a band set-up complete with a Chappelle's 'Juke Joint' neon sign:
Don't take "no" for an answer! Thanks @Brothersmarkel for creating this neon sign just in time for…"Don't take "no" for an answer! Thanks @Brothersmarkel for creating this neon sign just in time for…www.instagram.com
The crowd filing in is wide ranging — college bros, Hip-Hop heads, women dressed for the club, dudes looking like they just left the office. The breadth of the crowd is one that has followed Dave from movies like 'Half Baked' to TV with 'Chappelle's Show' and on through to his current stand-up run. Shortly into the evening, DJ D-Nice is joined by Dave's tour DJ, DJ Trauma who begins to warm up the crowd, letting them know that they are about to see something they've never seen before. It seems like a promise that can't be kept. As it turns out, Trauma was right.
As the crowd continues to file in, I look towards the entrance and Dave Chappelle walks into the room nonchalantly and stops to say what's up to me before proceeding to the DJ booth. The casualness of the room atmosphere has Dave go almost unnoticed for several minutes before he gets on the mic and lays out theme for the evening:
"This is a party people. We're gonna have a good time. Everyone left their phones so if you fuck up, no one's going to know."
The room continues to fill up and another familiar face appears in the DJ booth: "Ashy Larry" himself, Donnell Rawlings. As Dave and Donnell mingle with the crowd (a small, intimate crowd) you get the feeling that this isn't going to be your typical all-star week event: there is no VIP, limited security (you have to look real hard to find them) and a crowd of people simply drinking, eating and having a good time. The Band with No Name and Frederic Yonnet slowly make their way on-stage with anticipation for the 'Juke Joint' (whatever it is) building.
As I wait for the event to kick into full gear, I turn around to survey the room (ok fine, I was eyeing the food area again) and I see who looks very much like Usher leaning on the wall, chillin' sans security. I walk over and confirm it is Usher. Given the casual vibe of the event, few people notice it's him. The event's starting so everyone turns their attention towards the stage.
This is where the real magic of the 'Juke Joint happens. Dave acts as a pseudo host/lead singer hybrid as the band runs the crowd through a musical history lesson — from a tribute to Earth, Wind & Fire to Dave playing 2Pac and rapping along to "California Love", it's as much performance as it is crowd participation, singing along with the vocals, yelling out things to Dave, Dave interacting with the crowd (yes, this includes smoking and drinking). At any moment, someone jumps on-stage to bring shots for Dave and the band. At one point earlier in the evening, Dave bought the whole place a round of shots.
The refrain of "Can we kick it?" with the crowd responding "yes you can" became the night's go-to refrain as Dave established an intimate connection with the audience that could only be felt in a setting such as this. If you've seen Dave Chappelle's 'Block Party', you'll remember the passion that exuded throughout the film showing the true love Dave has for Hip-Hop and music in general. This was turned up ten-fold at the 'Juke Joint' as Dave reigned supreme over an audience of music lovers.
One of the night's most impressive moments musically was when harmonica master Fred Yonnet literally thrashed the stage, playing the harmonica with such soul and passion that only Stevie Wonder could match (Wonder and Yonnet have collaborated many times).
In contrast, one of the night's most "Chappelle's Show" like moments was when Donnell "Ashy Larry" Rawlings took the stage to premiere his new single "CoCo Butter" — seriously. With a hook of "CoCo butter that coco butter" and a Reggae riddim from the band, Rawlings capped the performance off by removing his shirt and rubbing lotion all over himself. It was like a live version of "Chappelle's Show" and difficult to describe in words.
At one point, Dave made his way over to Usher and you could see that he was trying to get the mega superstar to join him onstage for an impromptu jam session. A similar event occurred at Dave's 'Juke Joint' in the UK when Ed Sheeran stopped by following his Wembley gig:
After some coaxing, Usher happily (but somewhat reluctantly) joins Chappelle and band onstage and proceeds to tear down a version of Michael Jackson's "Workin' Day and Night" much to the delight and astonishment of the crowd:
"A real music revival happened this night at #DaveChappellesJukeJoint. Part music, party comedy always unpredictable…www.instagram.com
For those in attendance, it seemed almost surreal to be seeing a star the magnitude of Usher performing in front of a crowd of mere hundreds in such a small venue. And it wasn't the only surprise appearance of the night. Toronto's own Kardinal Offishall attacked the stage for a surprise set as he ran through hits such as "Ol' Time Killin'" and spit an off the top freestyle to the delight of the crowd. Dave showed major love to Kardinal saying that he was the first one to put Toronto on the map and that Talib Kweli always told him to check for Kardi. Following the event, Kardinal posted an Instagram video with Dave and crew:
In a weird way, 'Juke Joint' is like Dave Chappelle's own "OVO Fest." Unpredictable, surprise guests, that "need to be there" feeling to truly explain the vibe. And while Drake's "OVO Fest" is anything but secretive with guests and audio/video recaps abundant, Chappelle's 'Juke Joint' remains shrouded in secrecy with only smatterings of event coverage, audio and video available online. As Dave brings his stand up tour around North America and the world, keep an eye out for these spur of the moment 'Juke Joint' events — as one event attendee Tweeted, they have no proof the night happened but it was the greatest party of all-time:
Reprinted from medium.com.  Written by broken cool, provider of marketing/PR services for recording artists, writer for Complex and Pigeons & Planes.