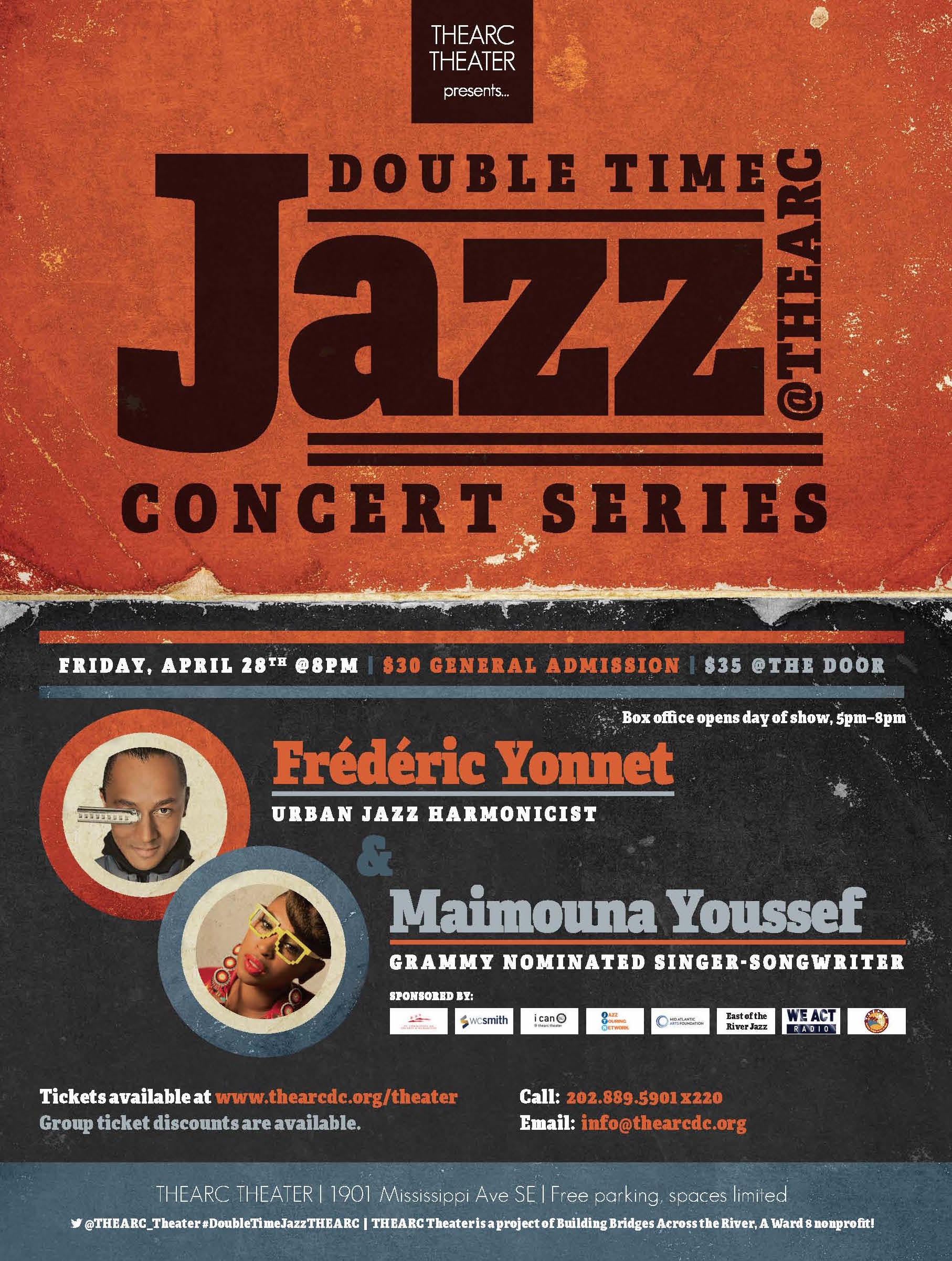 Address :
1901 Mississippi Ave | Washington, DC
TheArc Theater
Washington, DC
FredericYonnet and Maimouna Youssef Do Double Time at THEARC  
Urban jazz harmonicist Frédéric Yonnet doubles up with Grammy nominated singer, songwriter and emcee Maimouna Youssef to bring their unique and complimentary styles of music to TheARC.
Tickets: $25 Early Bird tickets available until April 14th!
After April 14th: $30 General Admission, $35 At The Door
ABOUT FREDERIC YONNET: Originally from France, Yonnet is regarded as one of the most talented and innovative harmonica players on the international music scene today. Rolling Stone magazine referred to Yonnet as "Prince's killer harmonica player" and praise from other influencers affirm his mission to change the way music enthusiasts and the industry regard the "pocket" instrument.
ABOUT MAIMOUNA YOUSSEF: Since receiving her Grammy nomination for her vocal contribution on The Roots hit "Don't Feel Right" in 2007 for best rap song, singer, emcee, and songwriter Maimouna Youssef (aka Mumu Fresh) has been making waves in the Indie music scene as a solo artist and is ready to take flight.
Double Time Jazz at THEARC Theater is a jazz series presented by THEARC Theater which brings world-class jazz musicians to THEARC Theater for performances throughout the year.  This effort is made possible through THEARC's collaboration with the Mid-Atlantic Arts Foundation Jazz Touring Network and the DC Commission on the Arts and Humanities.
Sponsored By: DC Commission on the Arts & Humanities, WC Smith, iCAN@THEARC Theater, Building Bridges Across the River, Jazz Touring Network Mid-Atlantic Arts Foundation, East of the River Jazz, and WEACT Radio.